Hire a Van Today!
Moving involves many things. First of all, you have to plan the whole thing. You need to think about everything that needs to be done and then you need to consider when to do it, how long it is going to take and who is going to do it (assuming that you are not alone). After you have planned everything, you may consider using a removal service to help you out. May people wish to hire a removal service (especially if they are alone) since it allows them to sit back and relax a little. Having to do too much in too little time can leave anyone frustrated, and this is no good. Handling a removal when you are tired and frustrated can result in more things going wrong, which will further annoy and frustrate you – what you will end up with is a vicious circle of problems and frustration. To avoid falling into such turmoil, contact Removal Van - Man and Van on 020 8746 9664 today, and take that first step towards a guaranteed successful removal.

If you require packing services, you will be happy to know that we have a few for you to choose from. These involve ordering and being supplied with packing materials. This includes specialist boxes, industrial strength tape and high quality general boxes. Alternatively, you can wish to hire professional removers who will come and pack up all of your prized possessions on your behalf, which is something that often leaves a smile on many of our customer's faces. The same goes if you require help unpacking your belongings – you can hire our professional removers to unpack your belongings for you and set them up in the new location. Finally, we have a variety of transporting methods including man and van services and the chance to hire a van. We just offer the services – choosing and picking the ones that will help you the most is your choice.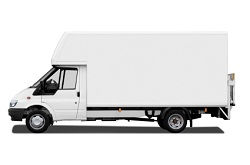 Hiring a van is one is an option that many people choose. This is because they believe that they can handle all other aspects of moving, but the transporting process. Their family cars may be too small to accommodate all of their belongings. Similarly, you may find that you will have to dismantle large items such as furniture, which is going to require effort and time. It is then going to take even more time and effort to put it all back together again once it has arrived at the new destination. You may also find that you cannot assemble the item back up because you have lost the instruction manual, in which case you will find yourself in quite a pickle. However, this is not an issue when you hire one of our vans. Not only do we have vans of different sizes that can accommodate all of your belongings, but we also have all of the equipment required to load your belongings into the van.

You would think that hiring a van would be expensive but you need to think again. Our prices are checked time and time again to make sure that our customers are not paying too much. It also allows us to make sure that our services are not beaten by other companies when it comes to prices. So go ahead and hire a van today! All you have to do is contact Removal Van - Man and Van by dialling 020 8746 9664 today. You will see that hiring the perfect removal service does not have to be time consuming and frustrating. So go ahead, get on the phone and get the ball rolling right away.